Made by licensed
health providers
Formulated with
clean ingredients
Glow Down | Sleep support
New improved flavor! Glow Down, our calming magnesium drink mix, helps you restore the body's magnesium levels back to normal so you can have a better night's rest. Magnesium plays many crucial roles in the body, including muscle and nerve function, energy production, brain function and mood. Our formulation includes 400 mg of magnesium, as well as six other essential nutrients including potassium, vitamin D, and zinc.
BENEFITS
Glow Down helps:
Support a better sleep cycle*
Restore magnesium levels*
Relieve muscle tension*
Calm the mind before bed*
HOW TO USE
Before bed, mix 1 scoop of Glow Down into hot or cold water.
INGREDIENTS
Vitamin C Magnesium Vitamin D3 Zinc Potassium Glycine Baron Other ingredients (Xylitiol, Mixed berry flavor)
Glow Down | Sleep support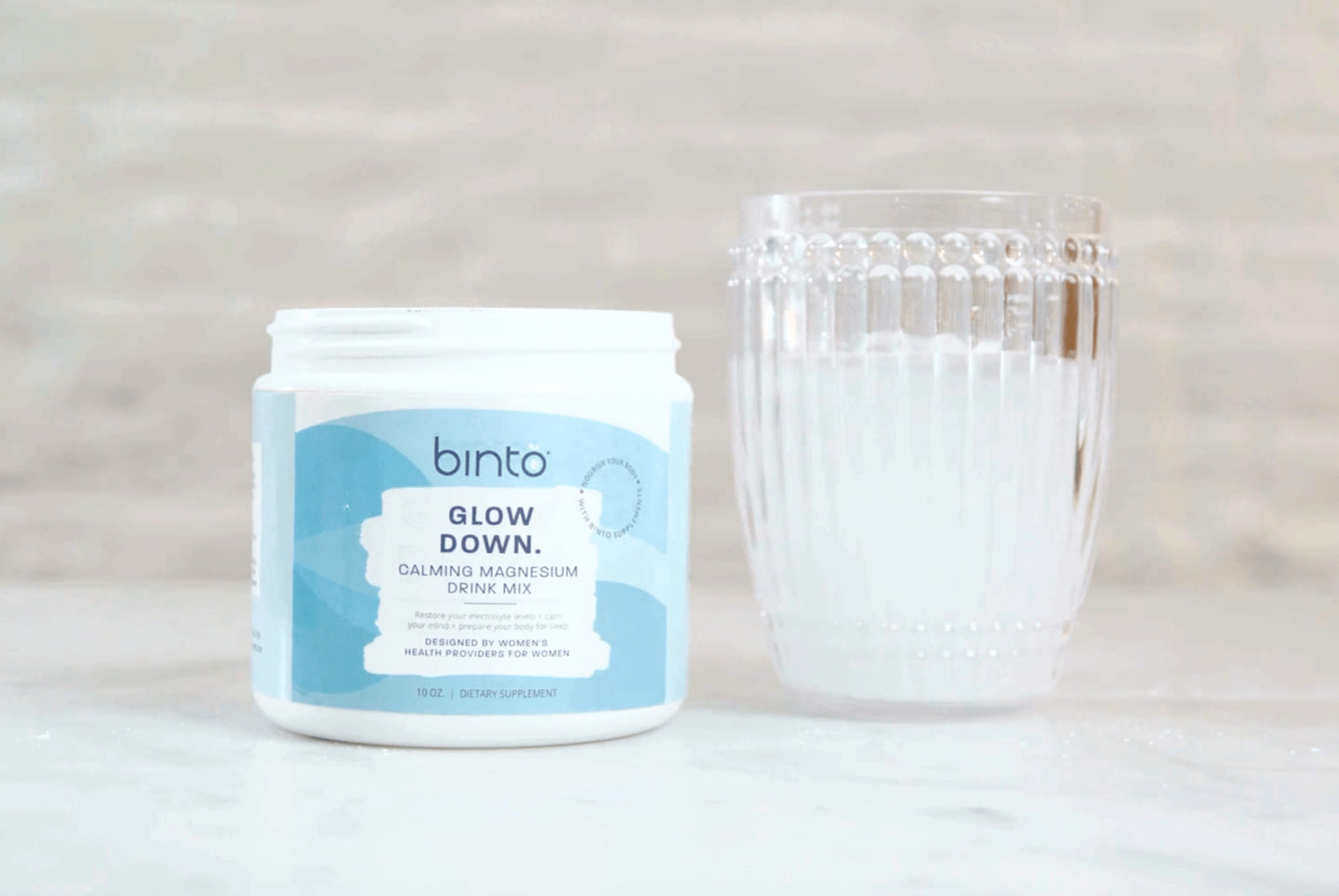 The low down on the Glow Down
Magnesium plays a role in energy production, muscle and nerve function, mood, and so much more – yet a majority of people do not get enough magnesium through diet alone.
Glow Down helps you restore the body's magnesium levels back to normal so you can rest, reset, and get a better night's sleep.
More to Love
These are customer favorites for a reason.
Real Binto customers speak
Ingredients matter.
That's why we formulate our products with no artificial chemicals, preservatives, or fillers. Our supplements are manufactured in the U.S. in a GMP-certified lab, and do not contain gluten or soy.
Not sure where to start with your supplement routine?
Take the Binto health quiz and our licensed providers will match you to your personalized routine.